Day 5 - Huntstile to Tidenham Chase
Day 4 - Okehampton to Huntstile
Day 6 - Tidenham Chase to Ludlow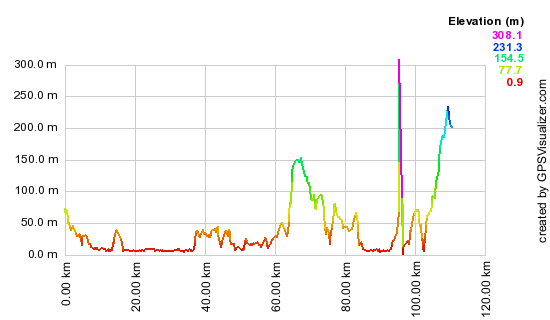 Nb. There is a glitch in the GPX file, there isn't really a 300m hill on the Severn Bridge!
Comments
To avoid climbing the hill out of Huntstile we went via Goathurst into Bridgwater. Easy to follow the A39 out of town, road is flat. Take second turning after the M5 to Bawdrip. B3141 is straight and very flat. At Mark take minor roads across the levels northwards. The gap through the Mendips to Winscombe is fairly easy and not steep. I would definitely look at getting to the M5 bridge over the Avon if I were doing it again. There must be a flatter route via Avonmouth. Ashton Hill is pretty steep and long. After crossing the suspension bridge Clifton Down is also very steep. As is the road into Henbury. Bristol is hilly and worth avoiding in my opinion. The railway bridge into Hallen was closed when we were there so we followed the diversion along the cyclepath alongside the busy A4018 but cut down a minor road before the M5 junction. Road via Pilning and Northwick is flat. Crossing the A403 at the cyclepath is hairy. Just follow NCN signs onto the Severn Bridge and into Chepstow. Chepstow has no camping and very few facilities. Get across the old bridge and up the long hill via Tutshill (shop) and the B4228 up to Tidenham Chase.
Camping at Beeches Farm up Miss Grace's Lane which is a mile or so off of the main road up a steepish track. Great views on a nice level camping field. Pay for showers in good facilities.