Saturday, May 30, 2009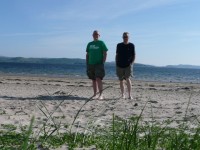 I call it a rest day when in actuality it was much more a washing and relaxing day. We're both in good nick and would have been fine for cycling. No doubt a day off of the saddles and plenty of nourishment will do us no harm.
We were both up pretty early. We usually rise at 7am on cycling days and take about 90 minutes to breakfast, wash and pack up all the stuff on to the bikes. We are usually on the road between 8.30 and 9.15.
It was before 8.30am that we were walking next door to Tralee Bay Park to use their laundry facilities. It really helps to have friends who know people! We bumped into Richard as he was just off sailing and mentioned we were thinking of cycling up to the Sealife Sanctuary later. He gave us a couple of complimentary tickets which was rather decent of him!
We spent the next hour watching clothes washing and lugged it back to Seaview to hang out on the fence next to the tents. A ready made washing line! The breeze and warm sunshine made short work of doing the drying.
We then pottered about, did some bike bits. Read books etc. Until lunchtime when we walked into Benderloch and had a bite to eat at the excellent café and bought some groceries at the village shop.
Around 2pm we cycled the 4 miles to the Seaview place. It was kind of weird with no weight on the bike! I'm quite glad we didn't pay to enter, two seals, two otters and some fish tanks. The otters were dead cute though. I hope you liked the live tracking, did you think we had left early?!
We spent a couple of hours at the Sealife centre and cycled back. We did a total of 7.59 miles at an average speed of 13.5 mph BTW.
We walked down to the beach where the breeze made the hot day more pleasant and went for a paddle. The sea was not too cold, wouldn't want to go the whole hog like some brave souls were though.
The evening meal was taken at the Hawthorn Restaurant over the lane from the camp. Pretty decent nosh.
More pottering until the midges got too annoying, they aren't that bad here TBH but once the breeze drops they come out to play. And now I'm writing this looking out through the flyscreen over the bay with the Moon for company. It barely seems to go dark at this latitude in late May, still basically daylight at 11pm.
So that was our Saturday, how was yours?


Posted by jochta at 09:03pm
Posted by WCZ on May 31 at 12:10pm
Posted by Amy on May 31 at 12:58pm
Posted by Shorty on May 31 at 02:05pm
Posted by .(JavaScript must be enabled to view this email address) on May 31 at 06:18pm
Posted by .(JavaScript must be enabled to view this email address) on May 31 at 06:34pm
Posted by Michelle on May 31 at 06:43pm
Posted by .(JavaScript must be enabled to view this email address) on May 31 at 07:03pm
Posted by .(JavaScript must be enabled to view this email address) on May 31 at 07:23pm
Posted by .(JavaScript must be enabled to view this email address) on May 31 at 07:36pm
Commenting is not available in this weblog entry.