Wednesday, June 03, 2009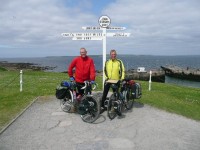 We finished! Best feeling ever. OMG that was so ace! Hard morning but the sun is shining and life is FAB!!!
I'll blog properly later. We need to cycle to Duncansby Head and to Wick this afternoon.
Distance : 50.13 miles
Time cycling : 4h39m
Ascent : 770 m
Average speed : 10.8 mph


Posted by jochta at 12:15pm
Posted by .(JavaScript must be enabled to view this email address) on June 03 at 12:21pm
Posted by .(JavaScript must be enabled to view this email address) on June 03 at 12:35pm
Posted by .(JavaScript must be enabled to view this email address) on June 03 at 01:05pm
Posted by .(JavaScript must be enabled to view this email address) on June 03 at 01:05pm
Posted by .(JavaScript must be enabled to view this email address) on June 03 at 01:27pm
Posted by .(JavaScript must be enabled to view this email address) on June 03 at 02:30pm
Posted by .(JavaScript must be enabled to view this email address) on June 03 at 03:23pm
Posted by Amy on June 03 at 05:26pm
Posted by Sophie on June 03 at 05:28pm
Posted by .(JavaScript must be enabled to view this email address) on June 03 at 06:23pm
Posted by .(JavaScript must be enabled to view this email address) on June 03 at 07:14pm
Posted by Markus on June 03 at 09:19pm
Posted by .(JavaScript must be enabled to view this email address) on June 04 at 08:57am
Posted by Uncle John, Auntie Sheila and Chris on June 04 at 12:20pm
Posted by .(JavaScript must be enabled to view this email address) on June 04 at 04:58pm
Posted by .(JavaScript must be enabled to view this email address) on June 05 at 09:10am
Posted by .(JavaScript must be enabled to view this email address) on June 05 at 11:19am
Posted by .(JavaScript must be enabled to view this email address) on June 08 at 07:47am
Commenting is not available in this weblog entry.