Thursday, June 04, 2009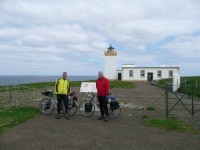 Has it sunk in yet? No! What a day.
We were so anxious to get started we were both up before 6am packed and ready to roll at 7am! There had been a couple of sharp bursts of rain during the night but the morning was trying to be bright but with the niggly but not strong northerly breeze still.
We were headed east though so it didn't bother us too much. We have been very very lucky with the weather. The last two days would be very tough with bad wind and/or rain. Our friend Sam who we shared a day with back in Devon had the wind so bad from Bettyhill it actually knocked him off of his bike and he had to push for a short stretch.
The A836 is wide, smooth and almost deserted. Great cycling road with views of the sea to our left. It's hilly for the first 20 miles though. It climbs headlands between little sandy bays 4 or 5 times. Quite tiring but nothing really too bad or steep.
Before Thurso it flattens out with just one small climb before the descent into town. We didn't linger and cycled straight through. According to the welcome sigh the only thing it's famous for is being the birthplace of the founder of the Boy's Brigade.
After Thurso it was just a case of getting the job done. We were on mileage countdown, each sign greeted in despair when it only indicated one more mile done when it felt more like three! The weather was getting sunnier and sunnier, we'd had two very brief bursts of rain during the ride. Too chilly to take off jackets though.
It's a pretty flat easy run in and soon we could see the dilapitated hotel and we rode side by side down the slope to the finish line. A punch of the air and we'd done it!
We got the required photo done with Andrew's cycle computer mileage of 1071 miles which has been reading a little under. My Geko GPS reckons 1083 miles but who cares we'd done it! I'll go through the GPS trace when I get home and get 'official' distance, ascents and average speeds.
After ringing home we had a coffee in the café got our sheets stamped for the last time and signed the end to enders book.
JOG doesn't have a lot to offer though and after a stroll around the gift shops and a few photos we left.
I wanted to do the extra two miles to Duncansby Head just to get to the end of the road in the northeast of Britain. So we did, a little climb and a few photos.
Then the dreaded 17 miles to Wick. Which needn't have been dreaded at all. With the wind behind us for the first time in days and the easy, fast and quiet A99 to cycle on we tore up the miles. In fact we posted our fastest average speed of the entire trip! Including the diversion to Duncansby Head we did 21.38 miles at an average speed of 12.6 mph.
Good campsite very close to the station for the early train in the morning.
So that was that. Totally brilliant adventure. I want to do a summary blog once my mind has settled plus a huge list of thank yous.
One huge thanks now though to our wives, without their support this wouldn't have been possible. To our children, sorry we've been away, we miss you and love you and we'll be home soon.


Posted by jochta at 05:24am
Posted by chris on June 04 at 07:37am
Commenting is not available in this weblog entry.