Thursday, May 28, 2009
What are we doing in Troon you may wonder. And no it wasn't so we could have a quick round of golf. All will be revealed.
After yesterday's slog against the wind and scenery today was fab. One of our best days. It rained overnight and was raining steadily when we awoke. Luckily the campsite had a kitchen so we could breakfast in the dry. Apparently we had just missed a cycling rally held there with 450(?) cyclists. Shame we missed it… not. Sounded busy.
So we packed up in the wet and donned our waterproofs and headed into the dull drizzly morning. We needed to head back to route on the B729 at Dunscore where a shop supplied us with drinks and snacks for the day.
What absolutely superb cycling road, almost completely devoid of traffic, no steep gradients and a good surface.Even the short stretch of A702 was the same. From the pretty village of Moniaive to Carsphairn I counted a total of 16 vehicles in 15 miles. Most were going the other way.
This is Scottish scenery as it should be. Loch, moor and hill. Beautiful, even on an overcast day.
The road from Moniaive was basically one long steady uphill to the watershed for about 7 miles followed by 7 miles of downhill on the other side. At certain sections it was like cycling through a grotto.
We timed it perfectly to arrive in Carsphairn for lunch at the Stag Tea Room where there was a signed photo of the Hairy Bikers who had benn there before us. Strange they never asked us to sign a photo to hang next to it.
The drizzle had stopped by the time we had finished lunch and it tried to brighten up for the rest of the day. We still had a bit of a headwind but we had more shelter and better scenery so it didn't bother us as much.
The A713 towards Ayr was a little busier but still practically deserted. Again it was a climb of several miles to the watershed and the Ayrshire border above Loch Doon. The descent to Dalmellington was in a pretty glen with stream. Sadly Ayrshire clearly don't spend any money on their roads as the surface was shocking. So bad was it that it shook Andrew's front pannier rack loose and we had to stop for a roadside repair.
God only knows why they have speed humps in Dalmellington as if you drove at 30mph on those roads your car would probably fall apart. Joking aside, all the A-roads we encountered in Ayrshire were terrible. It makes progress slower, more painfull, more frustrating and more dangerous than it should be.
Luckily the B-roads were much smoother and the B730 past the grey village of Drongan to Tarbolton was brill. Our first attempt at camping near Tarbolton was thwarted as they no longer take tents. They sent us on to a place near Dundonald which was just statics. We rang a place at Cunninghamhead which was the same. All three show as campsites on the map.
The guys at Dundonald told us to try the place in Troon which only shows as a caravan park on the map. They takes tents they insisted. And the way there was just up and over the hill on Old Loans Road. Could they not see we were on bikes?
Climbing hills is fine when they are hills we need to climb to get to JOG. Climbing hills in totally the wrong direction is a teensy bit annoying. Ah well, it was steep but the views across to Arran from the top just about made it worthwhile. We'll avoid having to go over it again tomorrow by using the A-road alternative.
The campsite is near the railway (a bit noisy) but can take a few tents. The guy who runs it used to play football with an old OUFC player and follows the fortunes of the team! We had a long chat about football in Oxford in Troon, as you do!
So that's the story of how we got to Troon. We're a few miles off course, we should catch them up OK tomorrow. So good to have a fandabidozi (sp?) day after yesterday. Glasgow and Loch Lomond tomorrow. Ace!
And not once have I said Donald where's me troosers.
Distance : 69.02 miles
Time cycling : 6h42m
Ascent : 1476 m
Average speed : 10.3 mph


Tuesday, May 26, 2009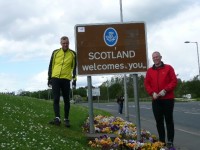 This was, on the schedule, the least hilly day on the entire route. It should therefore have been the fastest day. Sadly it was the first day we failed to beat the 10mph average. Doh!
Why was this? It was flat, very flat for large sections. It was because of the darned wind. We've been lucky so far and had tailwinds or light winds which didn't matter. Today was a strong blustery northwesterly veering westerly later. It also brought a few hefty showers.
It was straight into this wind we started the day in on the undulating road following the River Eden and Settle-Carlisle railway towards Carlisle. In Lazonby we stocked up on drinks and snacks and had a chat with three women doing the Coast to Coast. I also saw my first Google Streetview camera car here.
The wind made it slow going as it negated all the downhills. Having to pedal downhill should be against the law! But we eventually got to Carlisle and the hunt for the gas cylinder began. Millets didn't have any so they sent us to Trespass who didn't have any. Repeat process 3 times and eventually in the 4th shop we could buy a cylinder. So many camping shops, so few cylinders.
We had lunch in Carlisle whilst we were there. We used NCN 7 and the new road alongside the new M6 to get to Gretna, a smooth fast road without a headwind.
Scottish border! The first house is a lot rundown from what I remember. Picture taken it was off westwards to Annan and Dumfries. Lots of very straight, very dull roads which were hell in a galeforcd westerly wind. Stupid unnecessary loop in the NCN route at Annan to Newbie added on some pointless distance. The diversion to Powfoot is possibly worth it though the road is rough in places.
We struggled on and eventually got to Dumfries to find the only camping site marked on the map had closed down. We had to do another 5 or so miles to the next one near Shawhead which is very nice.
Afraid the day was spoiled by the wind, but as I said we've been lucky up to today. Better luck for tomorrow hopefully although the forecast is for rain apparently. BTW I lost about a mile or so of data due to GPS battery failure.
Distance : 74.52 miles
Time cycling : 7h40m
Ascent : 1205m
Average speed : 9.7 mph


Monday, May 25, 2009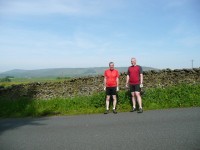 First things first. We've had literally a few emails and texts asking us about chaffing. Let me assure you that neither of us (as far as I know) have issues of that nature.
Thanks to my Udderly Smooth chamois cream (or as my wife dubbed it Udderly Butterly, you can't spread a better bit of butter on your #%$*) and Andrew's daughter's Sudocreme we're well sorted. Please let me know when it's TMI. And apologies to my daughter's school if you are now having to explain what chaffing is to the children!
Let me tell you about hills. Bloody great big ones that go on forever. I thought everone said Cornwall and Devon were worst for hills, they were easy peasy compared to today.
We left Clitheroe via Bashall Eaves and a nice steady climb followed by our fastest descent yet, I clocked 70.0 kph on my Geko. Whatever that is in proper money. Up and down again into Slaidburn.
Oh. My. God. The next hill went on and on, mile after mile. It even had the audacity to show us its entire length just to rub it in how long it was. That just about did our legs in and we coasted down the other side into Bentham where we collapsed on a bench. It was not looking good for beating the 10mph average. We were down to 7.
The community shop in Burton in Lonsdale sorted us out with some hot sausage buns though. Thanks to us it is now officially the halfway shop for end to enders as we had our photo taken outside for the shop's website.
The pick me up got us along the flattish A683 (please could someone fill the potholes in along there?) to near Sedburgh. This is where the second nightmare climb started up to above the M6 above Tebay. That was really tough, the legs were very tired.
We dropped through the famous cutting to and through Tebay to Orton. There was a village festival in progress and the guy in Burton had warned us about the hill out of Orton so we stopped for a cream tea in the church and a rest. We put our names on a couple of balloons and saw them released. Mine's a winner I tell you.
I'm not sure what they put in the tea in Orton but we were back on track, the hill was steep but not too long and we were soon looking back along the day's route.
The drop from the top made all the day's hardwork worthwile. Through amazingly picturesque villages by streams, fast smooth cycling in the sunshine. Brill! We even managed to get the average up from 9.4mph at the top above Orton to 10.0 at the bottom! Ace!
Nit a bad little campsite near Temple Sowerby just off the hideous A66 but far enough away not to be too noisy. We tried to eat in the depressing village of Kirkby Thore without success. I know you have lorries thundering through constantly ignoring the 40 limit but you need to learn to love your village again.
We ate sandwiches and stuff from a BP garage. Sad innit?
So rwas a hard day, glorious scenery. A few long hills rather than lots of short ones. Think we found the latter easier.
Officially halfway (as everyone we met since Clitheroe insisted on telling us) and Scotland tomorrow.
Distance : 64.19 miles
Time cycling : 6h25m
Ascent : 1826 m
Average speed : 10.0 mph


Sunday, May 24, 2009
Cut off again, weird. It shouldn't do that! Tch, you just can't get the staff…
Worst road : No competition. The B5074/A530 between Nantwich and Middlewich Just awful for cycling. The old A30 between Launceston and Okehampton was pretty grim too, but it was pouring with rain.
Worst hills : Bristol. Avoid. Should have stuck with the more westerly route through Avonmouth I had originally planned.
Summary : We are both loving it. There's no pretending that it isn't hard work. It is physically demanding and tough at times. Fully laden with kit even small gradients see us down into the lowest gears, you just have to let the gears and legs ease you up the hills. But it's fab all the same. We are measuring progress by regional accents, it's amazing how much they change each day over relatively short distances!
It's been odd not to cycle today, kept touching the bikes, can't wait to get going again in the morning.

Our first day off just short of halfway. We spent the morning washing our clothes (everything I have apart from what I was wearing). The weather was warm and sunny, great for drying and solar charging everything.
We also gave the bikes some TLC. New rear brake blocks for me, now fully adjusted I might have good working brakes for the first time since Devon! Andrew cleaned, oiled and adjusted his gear indexing. Mine got a wipe, oiled and derallieur degritted and lubed (ooer).
In the afternoon we lazed, ate some lunch, stocked up on chocolate and gatorade. We then spent some time people watching next to the river sat in the shade on a bench. Having somewhere to sit with a back is nice occasionally. I may or may not have had a go on the little train ride.
I though I'd do a halfway summary.
Best campsite : Clitheroe, for facilities, friendly staff and location. Huntstile close 2nd with best hosts.
Worst campsite : Middlewich. Easily.
Best shower : Okehampton Filter House YHA. Proper bathroom and a shower that could knock you over.
Worst shower : Ludlow, more a dribble in a cold stone floored room.
Best road : Lots to choose from in the southwest. We've both picked the Cheshire Cycleway between Northwich and Lymm though. Smooth, flat, quiet with good scenery. B4361 between Leominster and Ludlow was hillier but also good